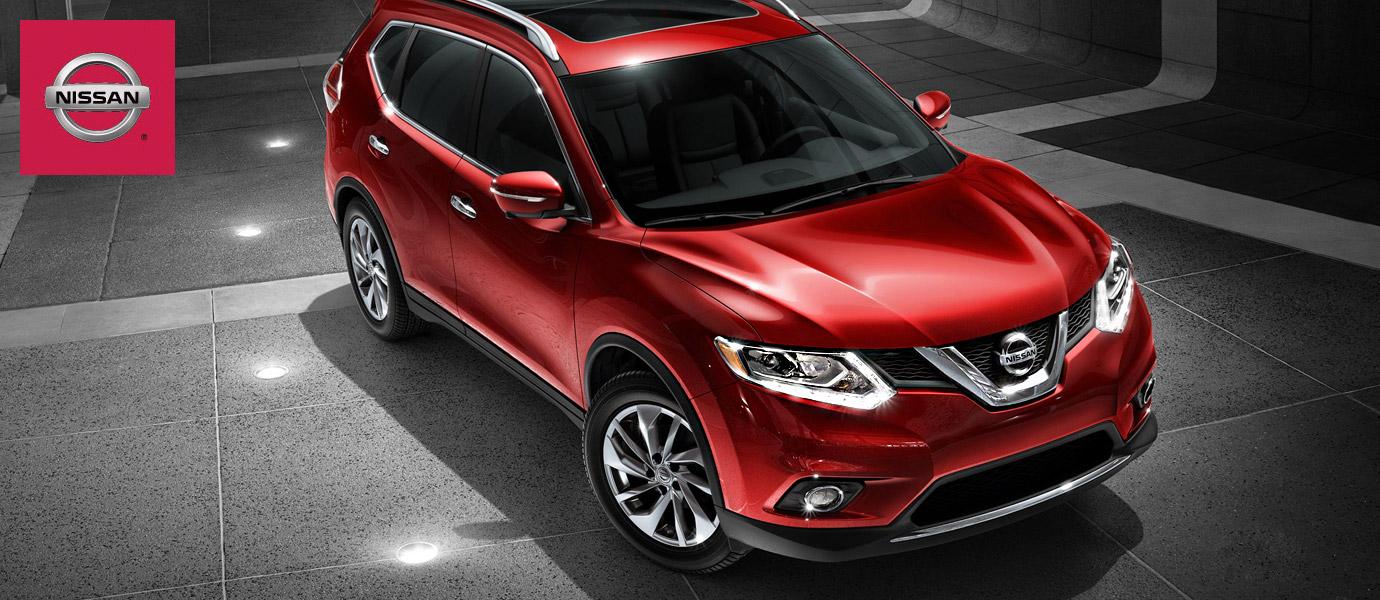 2014 Nissan Rogue Lawrence, KS
Nissan has added yet another seven-passenger SUV to their lineup, and as a crossover, the 2014 Nissan Rogue in Lawrence, KS is the perfect vehicle for those seeking the space of an SUV, but the fuel efficiency of a sedan. The redesigned Rogue is hitting the road for 2014 with a freshly-styled look, exciting new features, and more versatility for your active and busy life than ever.
The all-new Rogue maximizes fuel efficiency by utilizing a four-cylinder engine under the hood. At 2.5-liters it's the perfect size for those who aren't concerned about speed. At 170 horsepower it's plenty fast, but it doesn't overdo it. The biggest benefit of the Rogue's four-cylinder engine, however, is that it's able to deliver superior fuel efficiency. There aren't many seven-passenger SUVs that are capable of breaking the 30 mpg barrier, but with a best-in-class highway fuel economy of 33 mpg, the Rogue does it with ease.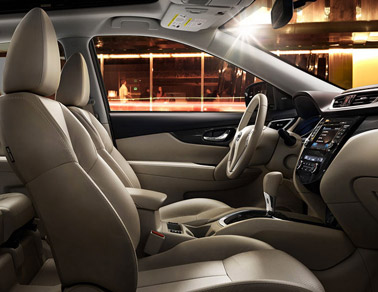 Comfort and Space in the New Rogue
Perhaps the greatest part of the all-new Rogue is the comfortable and accessible cabin, which has been equipped with a number of new, convenience-driven features.
In the front, a new degree of comfort is provided by the zero gravity NASA-inspired heated front seats that are designed to follow the same warming-up sequence as your body. Another new seating feature includes the addition of a third row of easily-accessible seats which are perfect for bigger families or those with carpooling responsibilities. When all seven of the seats aren't needed, they fold flat, making all 70 cubic feet of storage truly yours for whatever you need it for. It's just one of the many ways that the Rogue adapts to your needs and lifestyle.
Get the Nissan Rogue in Lawrence, KS
afety is one of the top concerns for new car buyers, so you'll be sure to appreciate that the 2014 Nissan Rogue takes full advantage of today's dynamic safety innovations to help protect you and your passengers. Among the standard features are cabin-filling airbags, a tire pressure monitor and stability control. The Rogue also focuses on crash prevention with available features such as a surround-view camera, a forward-collision alert system, blind-spot monitors, and a lane-departure warning system.
If you want to check out the new 2014 Nissan Rogue in Lawrence, KS for yourself, fill out the form on this page, or come and see us here at Briggs Nissan Lawrence. We've got the friendly attitude and dependable expertise to help you explore this dynamic new addition to the Nissan family.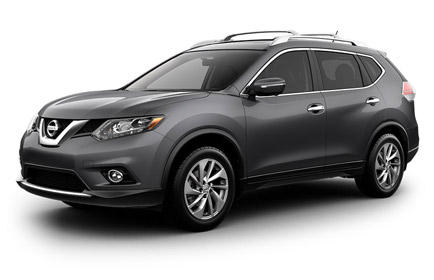 Why Choose Briggs Nissan Lawrence?
On behalf of all of us at Briggs Nissan Lawrence, welcome to our dealership! You might be wondering, out of all of the automotive dealerships out there, why should you choose to shop for your next car with us? Well, it's true that we have a huge inventory of the newest Nissan car, truck, and SUV models for sale. It's also true that Briggs Nissan Lawrence is conveniently located for drivers in Topeka, Olathe, and Kansas City to visit us here in Lawrence, KS. The main reason so many drivers in Kansas choose to purchase their next vehicles from us, however, is because we believe in personalized customer service. We believe in building honest relationships with our customers to not only help you better today, but also tomorrow, the day after that, and all of the days in the future when you have an automotive-related need. Whether you're dealing with the salespeople while shopping in our new and used inventories, the certified technicians in our service center while getting maintenance done on your vehicle, or our friendly finance department while applying for a car loan or lease, you can expect to receive personalized customer service.
New Nissan Inventory
The
new inventory
of Nissan vehicles that we have in stock at Briggs Nissan Lawrence includes two of the most desirable sedans on the planet. The first of these is the 2016 Nissan Versa sedan, which is a popular vehicle because it has a low MSRP and a high amount of cargo space, not to mention its great fuel efficiency. On the other end of the spectrum is the new 2016 Nissan Maxima. This sedan boasts an interior layout modeled after the cockpit in a fighter jet and a huge V6 engine that puts out 300 horsepower. So whether you're looking for a sedan with great fuel economy or with a powerful engine wrapped in an innovative and sporty exterior design, we have the right car for you at Briggs Nissan Lawrence. And don't forget, our new inventory also includes the latest lineups of Nissan coupes, hybrids, SUVs, and trucks!
Pre-Owned Inventory
We make it easy to find the ideal pre-owned vehicle to suit your preferences. Whether you're looking to spend
$10,000 or less
or you want a vehicle that averages
30 MPG or better
, we have special selections of used vehicles just for you. We also have an extensive inventory of certified pre-owned Nissan vehicles, which are late-year models with low mileage, typically just one previous owner, and all of them have passed rigorous inspections by certified Nissan technicians. As for the rest of our
pre-owned inventory
, we have so many outstanding vehicles to choose from that customers will have no difficulty matching their specific transportation needs to popular used car, truck, or SUV models from Buick, Chevrolet, Ford, Hyundai, Toyota, and many more.
Express Service & Parts
Routine maintenance is essential to maintaining the longevity of your vehicle's life on the road. Drivers shouldn't underestimate the positive effects that oil and filter changes, battery replacements, or tire rotations can have their prized cars, trucks, or SUVs. The problem for many of our customers, however, is that they don't have the time to wait around a service station for extended periods of time. To make life easier for our customers, we have an
Express Service
center at Briggs Nissan Lawrence. Here our certified Nissan technicians handle maintenance and repair work for drivers from Lawrence, Topeka, Olathe, and Kansas City every day. We also speed up the repair process by enabling drivers to
order genuine Nissan parts and accessories
directly through our dealership. So the next time you need anything done on your vehicle, be sure to see us at Briggs Nissan Lawrence for quick, friendly, and efficient service.
Express Financing
Another way we make car shopping easier at Briggs Nissan Lawrence is with our
Express Financing
center. Just as our friendly technicians will rapidly attend to your car maintenance needs, the amiable finance experts at our dealership will assist drivers with all ranges of credit scores to discover the optimal car loans, finance packages, or lease agreements that are available to them. The goal of our Express Finance center is to help drivers from Lawrence, Topeka, Olathe, and Kansas City to drive away in the right vehicle for them while staying within their budgets. This just goes to show that the one quality drivers will find throughout every stage of the car shopping process at Briggs Nissan Lawrence is personalized customer service.
Sales Hours
Monday-Tuesday:
8:30 AM - 8:00 PM
Wednesday:
8:30 AM - 8:00 PM
Thursday:
8:30 AM - 8:00 PM
Friday-Saturday:
8:30 AM - 6:00 PM
Service Hours
Monday-Friday:
7:00 AM - 6:00 PM
Saturday:
8:00 AM - 4:00 PM